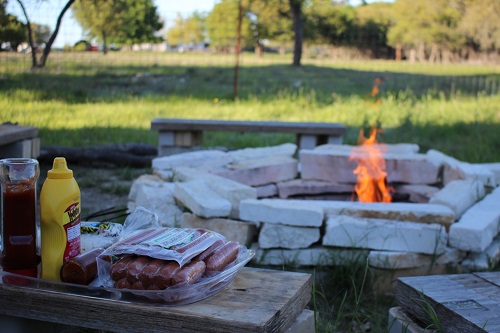 When it comes to outdoor entertainment, backyard design can make all the difference. Whether you have a tiny or sprawling backyard, there are many clever ways to set up your outdoor space for year-round fun.
Here are some quick tips for making a great backyard entertainment space at home:
Create space for yard games
Take the prep work out of backyard games by dedicating a specific part of your space to playing them. This will also give you somewhere for children and pets to play where they won't interrupt quieter seating areas or outdoor kitchens.
Install a fire pit with Adirondack chairs
What better way to enjoy your backyard space than around a cozy fire? You can DIY a custom fire pit out of stone, bricks or other materials for perfect ambiance and campfire fun. Surround the fire pit with stylish and comfortable Adirondack chairs to encourage guests to stay awhile.
Create a cozy outdoor movie theater
Skip the crowds and price tags of a public movie theater and create a personal viewing area in your own backyard. Using a folding screen, white sheet or a blank wall, you can project your favorite movies for you and your guests to enjoy. Make sure to include plenty of throw blankets and outdoor cushions in your movie seating area.
Hang string lights for extra ambiance
Twinkling lights are essential to every outdoor oasis, and are available in various styles, lengths and price points. If you don't have anywhere to hang them, you can create twinkling lanterns with glass jars.
Build a budget-friendly outdoor kitchen
You don't need to spend a fortune to have a great place to cook a meal outdoors. Even if your patio is too small for a full outdoor kitchen, you can enjoy a nice outdoor meal with creativity.
Start with the best outdoor grill (ideally equipped with side burners) and find a table or cart for extra prep space. Save space and money by repurposing outdoor furniture like an unused potting bench for a chic buffet setup instantly.
Section your yard into multiple zones
The key to making the best use of an enormous backyard is to create sections. For example, there may be areas where you can grill, enjoy active play, or simply sit in the shade. Create a spot for quiet conversation or solo contemplation slightly removed from the larger, entertainment-focused areas.
These are just a few backyard entertainment ideas you can try year-round. No matter the size or shape of your backyard, the right planning and setup will ensure a memorable outdoor party.